Equity, diversity and inclusion name change
CICES Council of Management recently rubber stamped the decision taken by members of the EDI Council to change its name.
The switch, from 'Equality, diversity and inclusion' to 'Equity, diversity and inclusion', better represents the values of the institution and its members.
And it's an acknowledgement of a prevailing attitude among many progressive organisations to better define what they mean by 'fairness' for all.
Why equity over equality?
According to the Equality and Human Rights Commission, equality means:
'Ensuring every individual has an equal opportunity to make the most of their lives and talents.'
This is a noble aim in itself and should be seen as an aspiration - but it can only be truly realised on a completely level playing field.
Currently 'equality' could imply that everyone should get the same treatment, regardless of their circumstances, opportunities or needs.
Using extreme examples to illustrate the point, a person using a wheelchair is 'equally' as allowed to use a staircase as someone who is able bodied.
Or if project documentation for workers of different nationalities was only made available in one language for everyone, their access could be said to be 'equal'.
But of course, these aren't examples of parity by any sensible measure, which is why the term 'equity' is deemed more appropriate.
Equity means treating people fairly depending on their individual circumstances, whether this refers to:
Gender identity or sexuality

Disability or health

Race or nationality

Religion
- or any other aspect of an individual's personal makeup - and making the necessary allowances or adjustments for their requirements.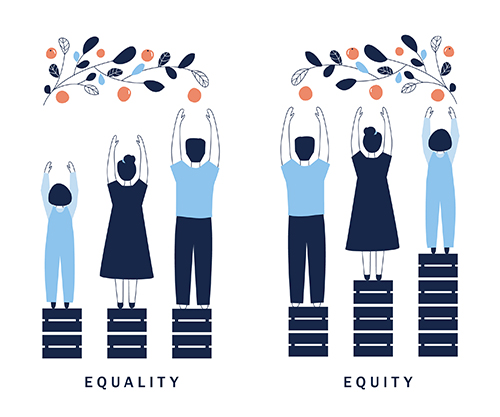 EDI going forward
EDI has long been established as one of the three CICES 'golden threads', along with sustainability and digitalisation.
As these values are central to everything we do going forward, we can't remain static as people and society's understandings and expectations evolve.
So our organisation and policy documentation will be altered to reflect the name change as agreed.
But regardless of the title, our institution's progress in this sphere will continue as focussed as ever, spearheaded by our EDI Council.
Council chair, Simon Navin, commented:
'I am delighted the Council of Management has approved this change.
'The focus on equity, which extends the concept of equality by aiming to provide support and consideration based on an individual's needs to achieve fairness, is the right one.
'Furthermore, it shows how CICES is developing in its understanding of EDI issues and not afraid to adjust to what is right and appropriate, as we mature our thinking in this golden thread.'
CICES EDI policy
You can view our current EDI policy document, which has been updated to reflect the name change as detailed above.
Published: 28 March 2023