Managing with the MMHW
A book from CICES Publishing, covering the background, development and usage of the Method of Measurement for Highway Works (MMHW).
Author Hamish Mitchell presents case studies and examples to help readers understand the practicalities of highway measurement.
'A book that is long overdue. It is well researched and written by one of the most experienced highway quantity surveyors in the UK, Hamish Mitchell. This book will help practitioners and students alike understand highway measurement in a much more structured way than was previously possible.'
Geoff Hodgson BSc MRICS MCP
Co-Author Manual of Contract Documents for Highway Works, A User's Guide and Commentary.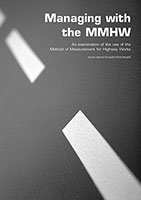 To purchase your copy of Managing with the MMHW, please contact CICES.